This morning, after harvesting lettuce mix, hundreds of pounds of cucumbers and squash, planting fall kale and hoeing our last planting of broccoli for the season (yes, this was all completed before noon today), our small Monday crew started sorting, cutting and cleaning this season's garlic.
They gathered the cured, hard-neck garlic from the steamy greenhouse and pulled it outside onto the scorched grass, (at least it was cooler there than in the greenhouse), to get to work.
I was high up on our tall cultivating tractor, working on a field close to the greenhouse, doing my best to stay on top of the weeds—who seem to be winning at farming this year.
I watched the crew of four, who are now in their twelfth week of working together, gather in a small circle and process the final steps of the crop that they spent time weeding, harvesting and curing.
that time it rained for about 30 seconds...
I thought about all the crews of farmers, or aspiring farmers, or part-time farmers, who have given their time, energy, talents and hard work to this farm over the last nine years.
I thought about how our growth-expansive both in physical size and in depth of experience—has been due to the incredible hard work and dedication of the many hands who have dug into the soil here.
I drove the tractor away from their working circle and off to the other side of the farm where the fall broccoli was in need of a Monday morning cultivation. I passed the field where the garlic had been, I passed the field where the garlic had been the year before that and I ended at the field that several years ago held that very same strand of Powisset garlic.
I passed so many memories of all the crews that came before, sitting in a circle somewhere on the farm, sorting garlic together.
From the garlic circle,
meryl & the powisset farm crew
What's in the share:
in the barn: tomatoes! (yay!! at last!), choice of greens (probably kale/chard/arugula/cabbage), lettuce or lettuce mix, cukes, squash, carrots, potatoes, peppers, basil, choice of other herb, maybe more!
in the fields: cherry tomatoes, green beans, dill, flowers, start of raspberries!
Events at or near Powisset:
me (meryl) & simba! CATS!
Mindfulness at The Farm
: Are you looking for a way to reduce anxiety, de-stress, and stay more focused? Did you know that research shows that mindfulness can benefit the body and mind in many ways and perhaps even lead to greater happiness? Begin your day with "Mindfulness at the Farm." On Thursday, August 20
th
at 6:30am, Morana Lasic, Anesthesiologist at Brigham & Women's Hospital and longtime neighbor of the farm, will lead us through a 30-minute session on Mindfulness. All you need is a mat, comfortable clothes and an open mind. Free for TTOR Members; $5, Non-Members. To register, please contact Nicole at nnacamuli@ttor.org.
Follow Footsteps in Noanet's History
Dover,
Noanet Woodlands.
The
Trustees of Reservations
invite you to walk the footsteps of history where Noanet's past is evident on Sunday, August 16
th
1-3PM. Noanet, named after a chief of the Natick Indians, who camped, fished, and hunted along the Noanet Brook. See evidence of colonial settlers' firewood harvesting, cellar holes of a few small homesteads, and visit the Mill Pond where in the early 19
th
century a sawmill produced boards, planks and joists for building the burgeoning Dedham. We'll end at the 24-foot high dam where the Dover Union Iron Company build a slitting mill that made barrel hoops, wheel rims, nail plates, and nail rods from forged iron. Pre-register with Ramona at
rlatham@ttor.org
or call 978.921.1944 x4013
Member adults $10. Nonmember adults $15.
Spy on Beavers!
Medfield,
Rocky Woods.
The
Trustees of Reservations
invite you to
Spy on Beavers!
On Sunday, August 16
th
, 6-8PM. We'll meet at Rocky Woods to learn about the world's greatest engineers then we'll walk at dusk to spy on the busy beavers. Pre-register with Ramona at
rlatham@ttor.org
or call 978.921.1944 x4013
Member adults $5. Nonmember adults $10, please note there is also a parking fee for nonmembers of $5.
In the Farm Stand:
We have SO many exciting things happening in the farm stand and visitors are coming, too! Here's what's on tap...
CHICKENS! CHICKENS! CHICKENS!
Eden Pond Farms will be coming to Powisset Farm to sell FRESH chickens this Saturday, August 15th. They will be selling fresh chickens for $4.50/lb. We'll continue to have frozen ones in the farm stand this week and selling them at the discounted price, $4.50/lb (that's a $1.50) off of our regular price!). So come by Saturday to grab your fresh chicken and meet Eden Pond Farms!
POTTERY!
Also visiting the farm on Saturday is
Judy Oglive Pottery
. Judy i
s a

talented potter who will be bringing her unique clayware to the barn. Here is a bit about Judy in her own words:
My name is Judy Ogilvie. I am a retired school librarian who is following a long-held dream - to be able to throw clay pots. Every step of the process of creating something from clay is a fascinating undertaking, from wedging up a ball of clay to the finished product. Every time I sit down at the wheel I learn something new, maybe about the feel of different clay bodies, maybe about the science of why some pots hold their shape and others collapse. Then there is the magic of glazing. No matter how well you know your glazes and kiln, when that kiln is opened there is always a surprise inside! I look forward to bringing my pottery to the Powisset Farm barn and hope you enjoy them as much as I do.
BLUEBERRIES!
Many of you have been asking, "Where are the blueberries?!?" I have good news...they are coming! We will be getting a delivery at the end of the week in hopes that we will have them on the shelf for Saturday and next week! The wild blueberries come from Blue Sky Produce in Phillips, Maine. To learn more about Blue Sky, visit their website: www.blueskyproduce.net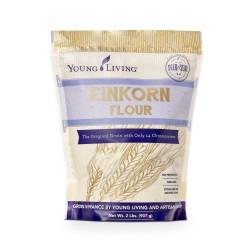 No, I didn't sneeze but you will find NEW Einkorn products in the farm stand this week.
Einkorn is the original "staff-of-life" grain, known as the oldest variety of wheat, which dates back to the beginning of time. Einkorn's natural genetic code and low gluten levels make it a superior choice because of the compatibility with the human body when compared to the modern hybrid wheat of today. Einkorn grain is easier to digest, so nutrients are better absorbed. Einkorn flour can be substituted for regular flour at a 1:1 ratio. Powisset is proudly offering Einkorn flour in a 2-lb box and Einkorn dry pasta (spaghetti) in a 1-lb box. We'll also be featuring an Einkorn baking class at the end of October...stay tuned for details.
MEAT PRODUCTS!
Be sure to check the meat freezer. We are carrying wonderful meats from various local farms, includinf Chestnut Farms. They have been delivering unique pork and turkey products. They have GREAT recipes and cooking tips on their website, too: www.
chestnutfarm.org.